Stihl Chain & Bar Selector
Stihl Chainsaw Chain and Guide Bar Selector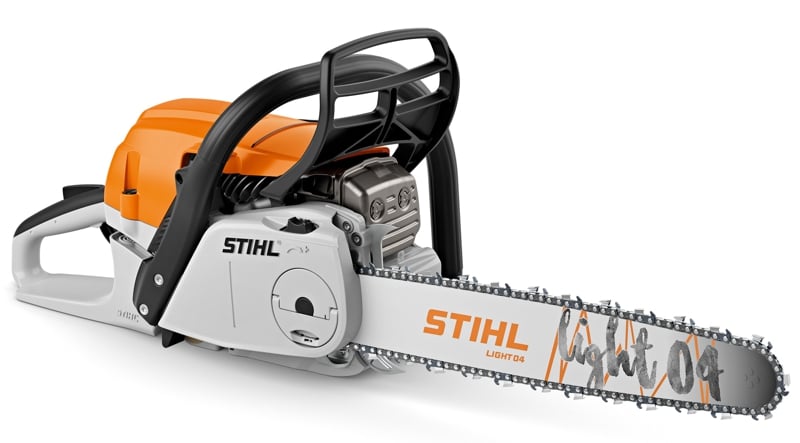 Here's a guide for you to identify which chain and guide bar is suitable for your Stihl chainsaw. The table includes Bar Length, Chain Pitch, Chain Gauge and Drive Links. It also recommends the correct file to sharpen your chain. We offer WAR TEC Chain as an alternative to the branded Stihl chain loops. WAR TEC is precision engineered with long life cutting edge at a fraction of the cost of branded Stihl chain loops.
Stihl Chain & Bar Finder
Do you know your model, bar length, pitch, and gauge? Use our finder to direct you straight to your products.
Stihl Model

Bar
Length

Chain
Pitch

Chain
Gauge

Drive
Links

Stihl
Chain

WAR TEC
Chain

File
Dia.

Stihl
Guide Bar

WAR TEC
Guide Bar

Chain
& Bar Kit

MS150, MS150T, MSA160T,

HT101, HTA85

MSA 160 C-BQ

10"

12"

1/4"P

1/4"P

1.1mm

1.1mm

56

64

-

-

HT70,HT75,HT100,

HT101,KM-HT,017,

023L,019T,MS190,E140,

MSE140,MS170,MS171,

MS180,MS192

12"

14"

3/8"P

3/8"P

1.1mm

1.1mm

44

50

009,010,011,018,019,

019T,020,020T,021,

023,025,E10,E14,E180,

MSE160,MSE180,

MS180,MS181,MS192,

MS200,,MS200T,MS201T,

MS210,MS211,MS230, MS231

12"

14"

16"

3/8"P

3/8"P

3/8"P

1.3mm

1.3mm

1.3mm

44

50

55

MS250,MS251,

025,012

14"

16"

18"

.325"

.325"

.325"

1.6mm

1.6mm

1.6mm

56

62

68

-

MS240,MS241,MS260

MS261,E160,024,026

028,029,030,031,032

034,036,039,MS270

MS280,MS290,MS360

MS361,MS362,MS390

13"

15"

16"

18"

.325"

.325"

.325"

.325"

1.6mm

1.6mm

1.6mm

1.6mm

56

62

67

74

-

029,031,032,034,036,038

039,041,042,044,045,046

048,056,064,066,E15

E20,E220,MS290,MS310

MS311,MS340,MS341,MS360

MS361,MS362,MS390,MS391

MS440,MS441,MS460

MS640, MS650,MS660

16"

18"

20"

25"

30"

36"

3/8"

3/8"

3/8"

3/8"

3/8"

3/8"

1.6mm

1.6mm

1.6mm

1.6mm

1.6mm

1.6mm

60

66

72

84

98

114

-

-

07S,08,08S,050,

051,075,076,084,

088,E30,MS880

17"

21"

25"

30"

36"

.404"

.404"

.404"

.404"

.404"

1.6mm

1.6mm

1.6mm

1.6mm

1.6mm

60

68

80

91

108

-

-

-

-

-

-

-

MSA 161T

10"

12"

1/4"

1/4"

1.1mm

1.1mm

57

65

-

-

MSA 200 C-B

14"

1/4"

1.1mm

72

-

MSA 220 C, MSA 220 T

12"

14"

3/8"P

3/8"P

1.3mm

1.3mm

44

50

MSA 220 TC-O

12"

14"

3/8"P

3/8"P

1.3mm

1.3mm

44

50

MSA 300

14"

16"

18"

.325"

.325"

.325"

1.3mm

1.3mm

1.3mm

60

67

74

-

-

MS 271, MS 271C

14"

16"

18"

18"

.325"P

.325"

.325"P

.325"

1.3mm

1.3mm

1.3mm

1.6mm

60

67

74

74

-

-

-

-

-

-

-

MS 291, MS 291 C

16"

18"

.325"

.325"

1.6mm

1.6mm

67

74

-

-

-

-
Scabbards
Stihl Model

Stihl
Guide Bar

Stihl
Scabbard

MS150, MS150T, MSA160T,

HT101, HTA85

MSA 160 C-BQ

HT70,HT75,HT100,

HT101,KM-HT,017,

023L,019T,MS190,E140,

MSE140,MS170,MS171,

MS180,MS192

009,010,011,018,019,

019T,020,020T,021,

023,025,E10,E14,E180,

MSE160,MSE180,

MS180,MS181,MS192,

MS200,,MS200T,MS201T,

MS210,MS211,MS230

MS250,MS251,

025,012

MS240,MS241,

MS260,MS261,

E160,024,026,028,

029,030,031,032,

034,036,039,MS270,

MS280,MS290,MS360,

MS361,MS362,MS390

029,031,032,034,036,

038,039,041,042,044,

045,046,048,056,064,

066,E15,E20,E220,MS290,

MS310,MS311,MS340,

MS341,MS360,MS361,

MS362,MS390,MS391,

MS440,MS441,MS460,

MS640, MS650,MS660

07S,08,08S,050,

051,075,076,084,

088,E30,MS880

MSA 161T

MSA 200 C-BQ

MSA 220 T

MSA 220 TC-O

MSA 300
Link to categories