Husqvarna Chain Selector
Husqvarna Chainsaw Chain and Bar Selector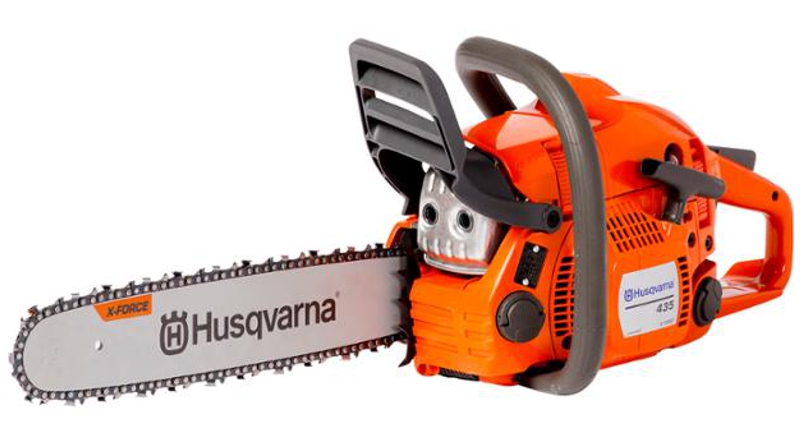 Here's a guide for you to identify which chain and guide bar is suitable for your Husqvarna chainsaw. The table includes Bar Length, Chain Pitch, Chain Gauge and Drive Links.
Please see our guide for how to measure your chain & guide bar
Husqvarna Chain & Bar Finder
Do you know your model, bar length, pitch, and gauge? Use our finder to direct you straight to your products.
Husqvarna Bar with Stihl Chain Loop - with WAR TEC Alternative
Husqvarna Model

Bar
Length

Chain
Pitch

Chain
Gauge

Drive
Links

Husqvarna
Bar

Stihl
Chain

WAR TEC
Bar

WAR TEC
Chain

Chain and
Bar Kits

T435, 327P4, 327P5X,

315, 316, 318EL, 317E,

321E, 135, 135e, 140,

140e, 334T, 335XPT, 338XPT

12"

14"

3/8"P

3/8"P

1.3mm

1.3mm

45

52

33, 36, 41, 40, 45, 49,

42, 44, 51, 55, 133, 136,

141, 137, 142, 234, 235e,

238, 240e, 242, 246, 339XP,

340, 444, 345, 350, 346XP

13"

15"

.325"

.325"

1.3mm

1.3mm

56

64

-

340, 444, 345, 350, 346XP, 351,

353, 357XP, 359, 362XP, 435,

435e, 440e, 445, 445e, 450e,

455, 460, 545, 550XP, 555, 560XP

15"

18"

.325"

.325"

1.5mm

1.5mm

64

72

61, 65, 67, 162, 181, 185,

266, 268 272, 281XP, 288XP,

285, 298 365XP, 372XP, 385XP,

390XP, 394 395XP, 465 Rancher,

570XP, 576XP

20"

3/8"

1.5mm

72
Husqvarna Bar with Husqvarna Chain Loop - with WAR TEC Alternative
Husqvarna Model

Bar
Length

Chain
Pitch

Chain
Gauge

Drive
Links

Husqvarna
Bar

Husqvarna
Chain

WAR TEC
Bar

WAR TEC
Chain

325P4x, 327P4/327PF

327P4/327P5X

12"

3/8"P

1.1mm

45

T425

10"

3/8"P

1.3mm

40

T435, 327P4/327P5X, 317 Electric,

321 Electric, 135, 135 e Series,

140, 140 e Series, 334T, 335XPT,

338 XP T

12"

3/8"P

1.3mm

45

T435, 315/316/318 EI, 317 Electric,

321 Electric, 135, 135 e Series,

140, 140 e Series, 334T, 338 XP T

14"

3/8"P

1.3mm

52

315/316/318 EI, 317 Electric,

321 Electric, 135, 135 e Series,

140, 140 e Series, 335XPT, 338 XP T

16"

3/8"P

1.3mm

56

236 series, 240 e-series, 335XPT

14"

3/8"P

1.3mm

52

33, 36/41, 40/45/49, 42/44, 50/51,

55, 133, 136/141, 137/142, 234,

235 e-Series, 238, 240 e-Series, 242/246,

339 XP, 340/444, 340/345/350, 346 XP/351/353,

357 XP/359, 435/435 e-Series, 440 e-Series,

445/445 e-Series, 450 e-Series,

455 Rancher/e-series, 460 Rancher,

545, 550XP, 555/560 XP

13"

15"

.325"

.325"

1.3mm

1.3mm

56

64

-

33, 40/45/49, 42/44, 50/51, 55, 133,

234, 238, 242/246, 339 XP, 340/444, 340/345/350,

346 XP/351/353, 357 XP/359, 435/435 e-Series,

440 e-Series, 445/445 e-Series, 450 e-Series,

455 Rancher/e-series, 460 Rancher, 545, 550XP, 555/560 XP

18"

.325"

1.3mm

72

33, 36/41, 40/45/49, 42/44, 50/51, 55,

133, 136/141, 154, 234, 235 e-Series,

238, 240 e-Series, 242/246, 254XP/257,

262 XP, 340/345/350, 346 XP/351/353, 357 XP,

359, 362 XP, 435/435 e-Series, 440 e-Series,

445/445 e-Series, 450 e-Series, 455 Rancher/e-series,

460 Rancher, 545, 550XP, 555/560 XP

13"

.325"

1.5mm

56

-

33, 40/45/49, 42/44, 50/51, 55, 133, 154,

234, 238, 242/246, 254XP/257, 262 XP,

340/345/350, 346 XP/351/353, 357 XP/359,

362 XP, 435/435 e-Series, 440 e-Series,

445/445 e-Series, 450 e-Series, 455 Rancher/e-series,

460 Rancher, 545, 550XP, 555/560 XP

16"

18"

.325"

.325"

1.5mm

1.5mm

66

72

50/51, 55, 154, 254XP/257,

262 XP, 357 XP/359, 362 XP,

455 Rancher/e-Series,

460 Rancher, 555/560 XP

15"

18"

3/8"

3/8"

1.5mm

1.5mm

56

68

-

61, 65/67, 162, 181/185, 266/268/272,

281 XP, 288 XP, 285/298, 365/372 XP,

465 Rancher, 570/576 XP

15"

3/8"

1.5mm

56

-

61, 65/67, 162, 181/185, 266/268/272,

281 XP, 288 XP, 285/298, 365/372 XP,

385 XP, 390 XP', 394, 395 XP,

465 Rancher, 570/576 XP

18"

3/8"

1.5mm

68

61, 65/67, 162, 181/185, 266/268/272, 281 XP,

288 XP, 285/298, 365/372 XP, 385 XP, 390 XP,

394, 395 XP, 465 Rancher, 570/576 XP, 562XP

24"

20"

3/8"

3/8"

1.5mm

1.5mm

84

72

T540XP

12"

3/8"P

1.3mm

45

181/185, 281 XP, 288 XP, 285/298,

365/372 XP, 385 XP, 390 XP', 394,

395 XP, 465 Rancher, 570/576 XP, 562XP

24"

3/8"

1.5mm

84

390 XP', 394, 395 XP, 2101, 3120XP

36"

.404"

1.6mm

104

-

-

2101, 3120XP

42"

.404"P

1.6mm

124

-

-